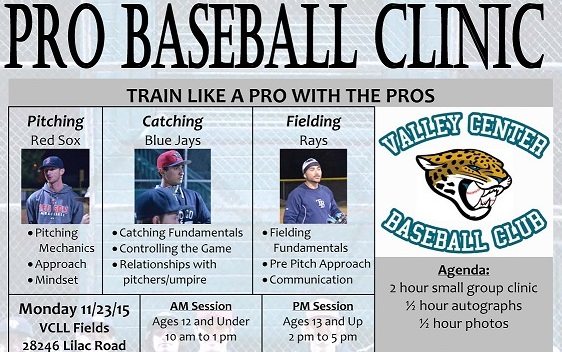 The Valley Center Baseball Club is taking advantage of Monday's day of from school to put together a Pro Clinic, featuring 3 of the Minor League players that work with our teams on a regular basis.
The clinic will provide specialized instruction for either pitching, catching, or fielding, in a small group 3 hour session.
Players 12 and under will work with the pros from 10am until 1pm. Players 13 and over will work with the pros from 2pm until 5pm.
All of this is taking place on Monday, November 23rd, at the Valley Center Baseball Fields, located at 28246 Lilac Rd., Valley Center, CA 92082.
The clinic only costs $20 per player with advanced registration, $25 at the event.
Click here for more info or to register.