Save the Date!!

Friday, May 5th

Come to Chipotle at corner of E. Valley Pkwy and Ash in Escondido on Friday, May 5th, between 5:00 and 9:00 pm. 50% of your order will be donated back to the Valley Center Baseball Club!. Just tell the cashier you are supporting VCBC!!

 

 

 

 

 

 

 

 

 

 

 

 

 
Please swing by if you can - this is a great fundraiser for us. And please spread the word!
Valley Center Baseball Club to Host 2017 Scotts Pitch, Hit & Run Competition for Major League Baseball
RAINED OUT - RESCHEDULED FOR MAY 14
Same times and location on Mothers Day 2017
Local Qualifier Set for Sunday,
May 7, 2017

2 p.m. at Valley Center High School's Varsity Baseball Field
Must Present Birth Certificates at 1 p.m. Checkin
The Valley Center Baseball Club today announced the upcoming local competition for the Major League Baseball Pitch, Hit & Run, sponsored by Scotts, to be held at Valley Center High School on Sunday, May 7, 2017 at 2 p.m., with registration beginning at 1 p.m.
This year's competition will be hosted at the Valley Center High School Varsity Baseball field, located at 31322 Cole Grade Road, enter through the endzone gate of the football field.
Pitch, Hit & Run is the official skills competition of Major League Baseball. It is designed to provide young people with an opportunity to compete, free of charge, in a competition that recognizes individual excellence in core baseball and softball skills. It is open to boys and girls, ages 7-14.
Forms are available online for participants to complete in advance and bring to the event by visiting https://www.pitchhitrun.com/competition_management/competitions/view/8777
All participants must bring a copy of their birth certificate and present it at registration, along with a completed registration and waiver form before the start of competition. The PHR is open to the public and anyone age 7-14 can participate in the event. Competitors will be divided into four age groups: 7-8, 9-10, 11-12 and 13-14. Boys and girls are encouraged to participate, competing separately in baseball and softball, respectively.
"For 8 years, our team of volunteers has hosted the Pitch Hit and Run in Valley Center and nearly every year, some of our talented Valley Center kids qualify through to the MLB Team Championships to compete and even win the Padres' Petco Park level of competition," said Rob Baranowski, president, Valley Center Baseball Club. "We are proud that the MLB has come to know Valley Center, while kids in our community get showcase their skills in this free, fun event!"
In 2014, local Valley Center competitor Alicia Zappia qualified all the way through and competed at the MLB All-Star Game in Minneapolis, MN, earning 2nd place in the country.
Participants will have the chance to advance through four levels of competition, including Team Championships at Major League ballparks and the national finals at the 2017 MLB All-Star Game in Miami, Fl at Marlins Park on July 11th. Starting out locally, participants in each age group and category with the highest score in the following categories will receive awards and will advance to the sectional competition: all-around champion, pitching champion, hitting champion and running champion. The sectional competitions will be held in the San Diego area at a later date in May.
For more information, contact Pitch, Hit, and Run Coordinator, Anita Baranowski at 619-987-0709.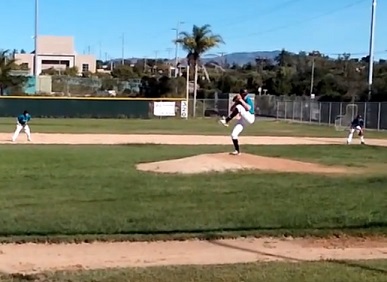 The Valley Center High School baseball program, in cooperation with the Valley Center Baseball Club, will be conducting summer, fall, and winter sessions for player development starting mid-June.
To facilitate the two programs working together, Coach Dan Egan, Head Varsity Baseball Coach for VCHS, will be joining the VCBC coaching staff as an assistant coach.
"We are happy to have Coach Egan on board as part of the cooperation of our club with the high school," explains Rob Baranowski, president of VCBC. "For all of the years of our club's existence, our goal has been to improve players before they enter high school and to give them a chance to play together as a team. Having Coach Egan as part of our program validates this."
Practices and games for the JV level team will be on the high school varsity field. The team will be welcoming current high school players, incoming freshman, and others who are interested in joining the high school team who might have not gotten the chance to play in previous seasons.
The developmental program will focus on fundamentals during these off-season sessions to help improve the quality of baseball at the high school, to introduce players to the high school baseball mentality, and to provide the high school coaches a chance to directly work with players.
The summer session's focus will be hitting, heavily utilizing the two batting cages currently being renovated at the high school. The fall session, supplemented with coaching from Minor League players and Padres' coaching staff during their off season, will focus on situations and baseball IQ. The short winter session will focus on game play in preparation for the spring season.
For incoming freshman, this provides an opportunity to start playing on the field that they will be calling home for the next several years. The varsity baseball field is the best facility in the area, and players will be able to enjoy playing on it as well as learning how to take care of it in high school tradition.
The first workout will be on Wednesday, June 15th, from 5-7pm. Any interested players should show up for this first workout session, and a roster will be selected from those in attendance. Games against other high schools and travel ball programs will be on Saturdays, starting as soon as June 18th.
Interested players should provide their information on our registration page, or sending an email to This email address is being protected from spambots. You need JavaScript enabled to view it.
Subcategories
Page 1 of 6
Warning
: Illegal string offset 'active' in
/home3/lce/public_html/vcbaseball.org/templates/js_studio_free/wright/html/pagination.php
on line
29
Warning
: Illegal string offset 'active' in
/home3/lce/public_html/vcbaseball.org/templates/js_studio_free/wright/html/pagination.php
on line
35
Warning
: Illegal string offset 'active' in
/home3/lce/public_html/vcbaseball.org/templates/js_studio_free/wright/html/pagination.php
on line
29
Warning
: Illegal string offset 'active' in
/home3/lce/public_html/vcbaseball.org/templates/js_studio_free/wright/html/pagination.php
on line
35
Warning
: Illegal string offset 'active' in
/home3/lce/public_html/vcbaseball.org/templates/js_studio_free/wright/html/pagination.php
on line
29
Warning
: Illegal string offset 'active' in
/home3/lce/public_html/vcbaseball.org/templates/js_studio_free/wright/html/pagination.php
on line
35
Warning
: Illegal string offset 'active' in
/home3/lce/public_html/vcbaseball.org/templates/js_studio_free/wright/html/pagination.php
on line
29
Warning
: Illegal string offset 'active' in
/home3/lce/public_html/vcbaseball.org/templates/js_studio_free/wright/html/pagination.php
on line
35
Warning
: Illegal string offset 'active' in
/home3/lce/public_html/vcbaseball.org/templates/js_studio_free/wright/html/pagination.php
on line
29
Warning
: Illegal string offset 'active' in
/home3/lce/public_html/vcbaseball.org/templates/js_studio_free/wright/html/pagination.php
on line
35
Warning
: Illegal string offset 'active' in
/home3/lce/public_html/vcbaseball.org/templates/js_studio_free/wright/html/pagination.php
on line
29
Warning
: Illegal string offset 'active' in
/home3/lce/public_html/vcbaseball.org/templates/js_studio_free/wright/html/pagination.php
on line
35
«
Start
Prev
1
2
3
4
5
6
Next
End
»