As school and Little League winds down, start making your summer baseball plans now. The Valley Center Baseball Club is looking to add a team (or two) and to beef up existing teams with additional players, ages 7-16. The club has a new manager lined up for the new team, and now just needs players to fill the team.
Interested players are invited to an open workout on the juniors field behind the Community Center on Thursday, June 18th, 2015, from 4pm - 6pm. Address of the field is 28246 Lilac Rd., Valley Center, CA 92082. Arrive ready to play in your full gear and bring your equipment.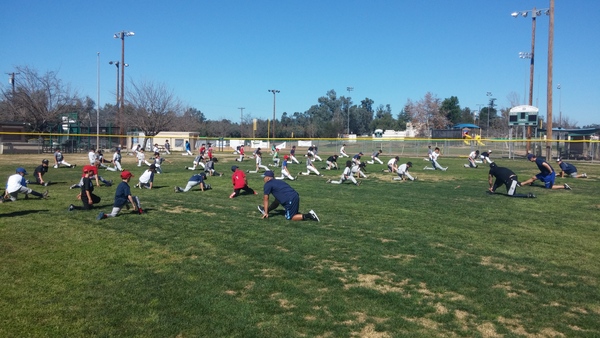 Based on the number of players accepted, teams will be formed after the open workouts. Initial schedules will include scrimmages against area travel teams. Tournaments will be decided upon based on quality of teams.
If players are not able to make this time, an alternate time of 6pm is available for a brief skills assessment.  Please contact us if you plan on attending during this alternate time.
For more information, contact any member of the club, send an email to This email address is being protected from spambots. You need JavaScript enabled to view it. or fill out the info form found here.
To see the event on Facebook, click here.
Valley Center Baseball Club 'Coach' Jeremy Rodriguez retired from being an active player in the Padres' organization to take on a role that he might be even better suited for - coaching.
"We've known him to be a great coach and excellent with young players, so it comes as absolutely no surprise to us!" explained Rob Baranowski, President of VCBC.  "We were glad to be able to run up to his last game when we heard the news."
Four players from the VCBC organization were there to give Coach a send off, and the best touch was that they were able to get a foul ball at the game, and decided to all sign it and give it to Coach.
And it was a great game. Jeremy went 1-for-4 with an RBI as the Storm won in dramatic fashion with a walk off homer in the 11th.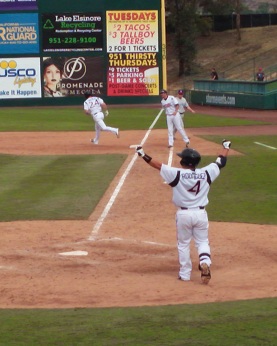 Coach Jeremy also had a great play at the plate to keep the game tied in extra innings - catch the video below:
"We certainly wish Coach Jeremy the best of luck down there, and look forward to him coming back and continuing to work with us in the fall," Rob Baranowski concluded.
The Union Tribune article on Coach Jeremy's retirement can be found here.
Save the Date!!
Wednesday, May 27th
Please swing by if you can - this is a great fundraiser for us. And please spread the word!
And let us know you are going by signing up for the Facebook event here.
The Valley Center Baseball Club hosted its first annual Pro Baseball Camp on February 8th, 2015 on the Valley Center Juniors Field. The day was nothing short of a success.
The turnout was great, but the best measurement of the day was the number of kids who left the field with huge smiles on their faces, and the number of parents that expressed they were already looking forward to next year's camp.
The day was set up with different stations run by pro players, with kids of the same age group moving between stations together.  A Q&A session with the pros was held at the end, followed by a picture and autograph session.

"Every pro we had out here was great with the kids, and really made each and every one feel special," summarized Rob Baranowski, President of the VCBC.  "We've had so much positive feedback, we are already starting to think about next year's event."

2015 Pro Baseball Camp

Sunday, February 8th, 11 am to 6 pm
Valley Center Little League Fields

28246 Lilac Rd., Valley Center, CA 92082
Juniors Field, all the way in the back

Pro Players from the San Diego Padres, Tampa Bay Rays,
Chicago White Sox and Chicago Cubs organizations are 
scheduled to work in small groups.

Featuring:


Jeremy Rodriguez of the Padres affiliate
Lake Elsinore Storm
$50 per person

Registration Deadline:
Deadline Extended!
Boys and Girls Ages 7 to 18
Sign up now to learn baseball skills
from Professional Players
Contact:
Rob Baranowski


This email address is being protected from spambots. You need JavaScript enabled to view it.


775-863-8705

Please bring your equipment:
Glove, helmet, bat, sneakers,
cleats, uniform, waters
Click here for flyer.
Click here to register.
Subcategories
Page 3 of 6
Warning
: Illegal string offset 'active' in
/home3/lce/public_html/vcbaseball.org/templates/js_studio_free/wright/html/pagination.php
on line
29
Warning
: Illegal string offset 'active' in
/home3/lce/public_html/vcbaseball.org/templates/js_studio_free/wright/html/pagination.php
on line
35
Warning
: Illegal string offset 'active' in
/home3/lce/public_html/vcbaseball.org/templates/js_studio_free/wright/html/pagination.php
on line
29
Warning
: Illegal string offset 'active' in
/home3/lce/public_html/vcbaseball.org/templates/js_studio_free/wright/html/pagination.php
on line
35
Warning
: Illegal string offset 'active' in
/home3/lce/public_html/vcbaseball.org/templates/js_studio_free/wright/html/pagination.php
on line
29
Warning
: Illegal string offset 'active' in
/home3/lce/public_html/vcbaseball.org/templates/js_studio_free/wright/html/pagination.php
on line
35
Warning
: Illegal string offset 'active' in
/home3/lce/public_html/vcbaseball.org/templates/js_studio_free/wright/html/pagination.php
on line
29
Warning
: Illegal string offset 'active' in
/home3/lce/public_html/vcbaseball.org/templates/js_studio_free/wright/html/pagination.php
on line
35
Warning
: Illegal string offset 'active' in
/home3/lce/public_html/vcbaseball.org/templates/js_studio_free/wright/html/pagination.php
on line
29
Warning
: Illegal string offset 'active' in
/home3/lce/public_html/vcbaseball.org/templates/js_studio_free/wright/html/pagination.php
on line
35
Warning
: Illegal string offset 'active' in
/home3/lce/public_html/vcbaseball.org/templates/js_studio_free/wright/html/pagination.php
on line
29
Warning
: Illegal string offset 'active' in
/home3/lce/public_html/vcbaseball.org/templates/js_studio_free/wright/html/pagination.php
on line
35
«
Start
Prev
1
2
3
4
5
6
Next
End
»