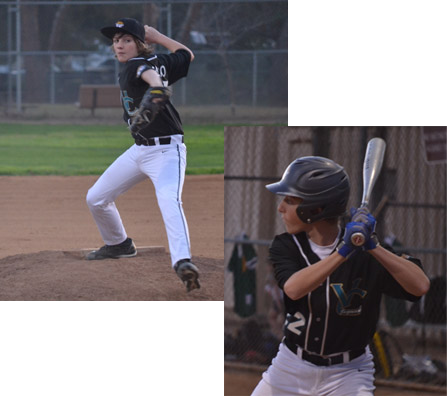 Led by some very strong pitching by Noah and Julian, the Valley Center Jaguars 13U finished with their first tie of the Spring season by matching the San Diego Crush in Poway on Sunday.
The pitching duo combined for 8 strikeouts and kept runners off the bases all game. They were supported by errorless baseball in the field behind them.
The Jaguars scored 4 runs on 5 hits, 7 walks, and 1 HBP. Aggressive baserunning led to 5 stolen bases and kept the opposing pitchers on their toes.
The game started out strong for the Jaguars, loading the bases in the 1st inning with only one out, but they failed to get a run across due to an inning-ending double play. But the Jags continued to put runners on and move them over.
The game was called at the end of the 6th after reaching the time limit.
The VC Jaguars 13U are 0-1-1 in this young season, the inaugural season for the team and organization.
Dave Stewart, World Series Champion and MVP, has been coaching with the Valley Center Jaguars 13U team, preparing the team for upcoming games, tournaments, and a lifetime of baseball.
Dave, most notably known for his intimidation of batters and his powerful stare made famous in his most successful years with the Oakland A's, proves to be a great mentor of youth as evidenced by his track record with the Easton A's, a collection of travel teams based in Rancho Bernardo. He now turns his attention to the youth of Valley Center and the 13U Jaguars.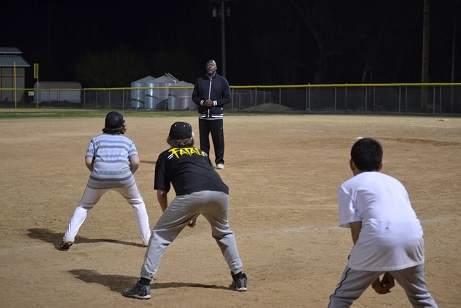 In his 16 year MLB career, Dave has acquired skills, knowledge, and experience that he brings to the field each practice. He is able to bring to the field the reasons WHY something is done a particular way, rather than the standard answer of "because that's the way it's done." And in most instances, Dave has a story to relay of what happens when something is NOT done that way.
In his prime, Dave started an incredible streak by winning 20 games while posting a 3.68 ERA and striking out 205 batters. He followed this by winning 20 or more games in each of the next three seasons (1988–1990).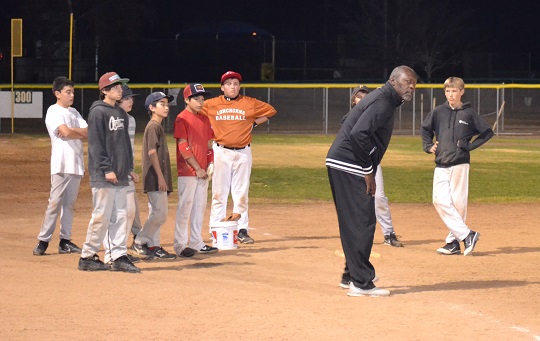 Remarkably, he pitched over 250 innings in each of those four seasons, frequently posting complete games and led a powerful Athletics club to the World Series each of those years. In 1988 he went 21-12, 3.23 ERA while leading the AL with 14 complete games and 275 2/3 innings pitched. In 1989 he went 21-9 with a 3.32 ERA, and in 1990 he went 22-11, finishing 3rd in the AL with a 2.56 ERA and led the league in innings pitched (267), complete games (11) and shutouts (4).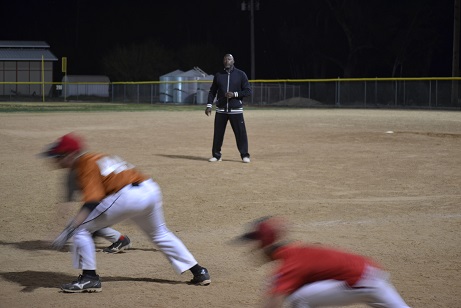 In 1989, the Athletics won the World Series championship, with Stewart, who won two of the four games while giving up just three runs (2-0 1.69 ERA including a complete game shutout in the opener), being named World Series MVP. In 1990, the A's won their third straight pennant, beating the Boston Red Sox in the American League Championship Series, and Stewart was named the ALCS MVP going 2-0 with a 1.13 ERA.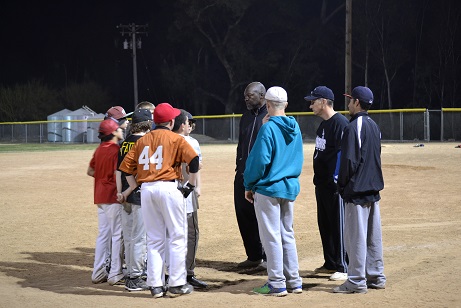 On June 29, 1990, Stewart no-hit his future team, the Toronto Blue Jays, at SkyDome. In a game that started minutes after Stewart's no-hitter finished, Dodger Fernando Valenzuela no-hit the St. Louis Cardinals at Dodger Stadium – the first time in Major League history that no-hitters had been thrown in both leagues on the same day. Coincidentally, ESPN broadcast both games back-to-back that night.
Dave's impressive accomplishments over his MLB career include:
* 3-time World Series Champion
* World Series MVP
* ALCS MVP
* 20+ game winner for 4 consecutive years
* Pitched a no hitter for the A's against his future team, the Toronto Blue Jays
* Roberto Clemente Award Winner
* Babe Ruth Award Winner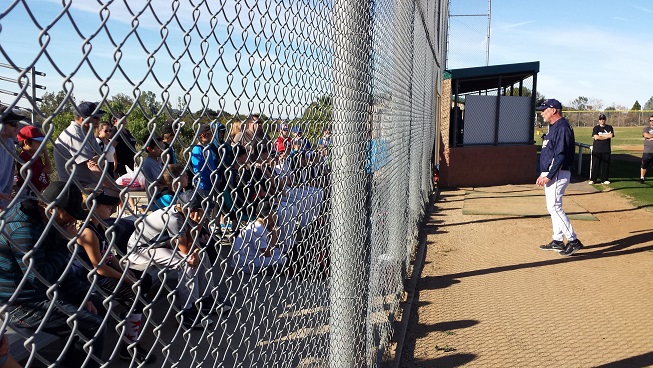 Major League Baseball veteran Randy Johnson kicked off the Valley Center High School Baseball Skills Camp on Friday, January 3. Johnson spoke to about 45 players and their family members. Johnson is noted for his long and consistent career as a MLB infielder for the Braves and other teams, and later as management and scout for the Padres, Oakland A's, and Detroit Tigers. The two-day skill camp was designed to ready players for the upcoming season and is an annual fundraiser for the VCHS baseball organization.
The Valley Center Baseball Club will be hosting a skills development camp at the VC High School on January 3&4, 2014.
The camp will run 9am to 3pm both days, and will cover hitting, pitching, throwing, catching, infield, outfield, and much more. It will be a great preparation for Little League tryouts and will provide a glimpse into the VCHS baseball program.
Register online here.  Or simply print the form below and send it with a check payable to Valley Center Baseball Club by December 27th to:
Valley Center Baseball Club
PO Box 1178
Valley Center, CA 92082
Link to PDF form here.
.
The open practices and tryout sessions are complete, and the teams are coming together. We have been very busy behind the scenes setting up all that it takes to create a travel ball / booster organization. But we are getting there, and we are working towards our first practices. Thanks for your patience along the way!
We will soon be putting registration packets on the website, and will be ordering apparel once everything is in place. The teams will support practice and full-roster players, and that distinction will be finalized in the initial practices.
Please contact us if you were not able to make it to the tryouts and are interested in being part of the program.
In the mean time we'll see you on the fields!
Subcategories
Page 5 of 6
Warning
: Illegal string offset 'active' in
/home3/lce/public_html/vcbaseball.org/templates/js_studio_free/wright/html/pagination.php
on line
29
Warning
: Illegal string offset 'active' in
/home3/lce/public_html/vcbaseball.org/templates/js_studio_free/wright/html/pagination.php
on line
35
Warning
: Illegal string offset 'active' in
/home3/lce/public_html/vcbaseball.org/templates/js_studio_free/wright/html/pagination.php
on line
29
Warning
: Illegal string offset 'active' in
/home3/lce/public_html/vcbaseball.org/templates/js_studio_free/wright/html/pagination.php
on line
35
Warning
: Illegal string offset 'active' in
/home3/lce/public_html/vcbaseball.org/templates/js_studio_free/wright/html/pagination.php
on line
29
Warning
: Illegal string offset 'active' in
/home3/lce/public_html/vcbaseball.org/templates/js_studio_free/wright/html/pagination.php
on line
35
Warning
: Illegal string offset 'active' in
/home3/lce/public_html/vcbaseball.org/templates/js_studio_free/wright/html/pagination.php
on line
29
Warning
: Illegal string offset 'active' in
/home3/lce/public_html/vcbaseball.org/templates/js_studio_free/wright/html/pagination.php
on line
35
Warning
: Illegal string offset 'active' in
/home3/lce/public_html/vcbaseball.org/templates/js_studio_free/wright/html/pagination.php
on line
29
Warning
: Illegal string offset 'active' in
/home3/lce/public_html/vcbaseball.org/templates/js_studio_free/wright/html/pagination.php
on line
35
Warning
: Illegal string offset 'active' in
/home3/lce/public_html/vcbaseball.org/templates/js_studio_free/wright/html/pagination.php
on line
29
Warning
: Illegal string offset 'active' in
/home3/lce/public_html/vcbaseball.org/templates/js_studio_free/wright/html/pagination.php
on line
35
«
Start
Prev
1
2
3
4
5
6
Next
End
»