Coaches of the Valley Center Baseball Club

The Valley Center Baseball Club will be starting its summer program for pre-high school players on June 16th on the community fields. We are currently in the process of scheduling games against other high school feeder programs between the middle of June and the end of July.

Once practices start, we will form teams based on the players that we have, with plans to have teams for players down to 7 years old. A firm schedule will be released when field availability is confirmed.

After the summer program, the program will transition to its full schedule fall program, supplemented with coaching from Minor League players and Padres' coaching staff during their off season. The season will then continue into the winter program, with a final schedule of games before the spring season.

Interested players should provide their information on our registration page, or sending an email to This email address is being protected from spambots. You need JavaScript enabled to view it.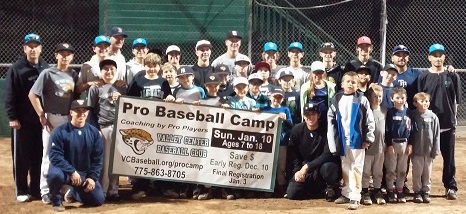 There is nothing more rewarding than seeing the success of our local Jag camp kids!  Now that the season is imminent, it is exciting to see how much work they have put in with the knowledge and skills they learned at the 2nd annual Jaguar Pro Camp in January hosted by the Valley Center Baseball Club and the seasoned pros that work with the club: Padres Dominican Team Manager Jeremy Rodriguez, Boston Red Sox's Pitcher Mike McCarthy, Toronto Blue Jays' Catcher Martin Medina and Tampa Bay Rays Infielder Oscar Sanay.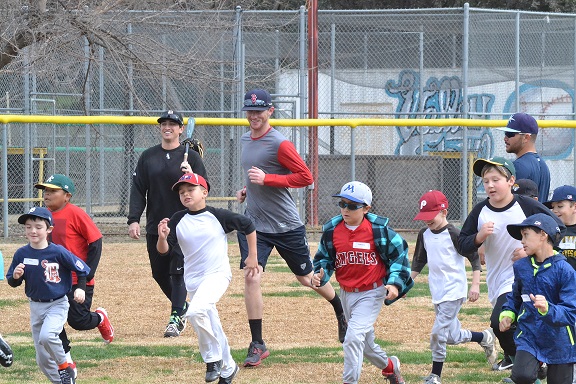 The camp started with a group stretch led by the pros. Then skills, fun, and games continued until lunch, after which Mike McCarthy threw a full bullpen session with Martin Medina, allowing the kids to experience it up close. The afternoon brought more skills and games, and the day was concluded with a Q&A and photo session with the pros.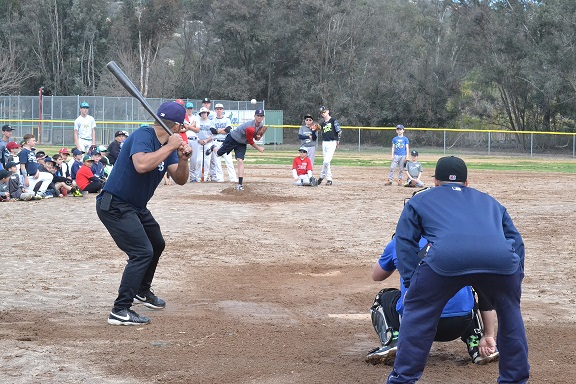 Both the Valley Center High School and Little League seasons kick off March 5, 2016 so it's a great time to support these kids and recognize the work they are putting in to take their game to the next level.
And of course, the Valley Center Baseball Club will continue to support the community in our mission to help develop local kids who want to continue playing baseball together, while improving their skills. The club enters its 3rd year in the commitment to bring better prepared players who are in tune with each other, all the way into the high school, in keeping with the "One Town, One Team"  baseball dream for Jaguars.
Valley Center Baseball Club to Host 2016 Pitch, Hit & Run Competition presented by Scotts for Major League Baseball, Sunday, April 24, 2016 at 2 p.m.
Local Qualifier in Valley Center, Birth Certificates Required to Compete
The Valley Center Baseball Club announced plans for the local level of the Major League Baseball Pitch, Hit & Run Competition sponsored by Scotts on Sunday, April 24, 2016 at 2 p.m., with registration at 1 p.m.
Pitch, Hit & Run is the official skills competition of Major League Baseball. It is designed to provide young people with an opportunity to compete, free of charge, in a competition that recognizes individual excellence in core baseball and softball skills. It is open to boys and girls, ages 7-14.
The Valley Center competition will take place at Valley Center Juniors Field at 28246 Lilac Road on Sunday, 4/24/2016, with early registration beginning at 1 p.m. and competition beginning at 2 p.m. Forms are available online for participants to complete in advance and bring to the event by visiting http://mlb.mlb.com/mlb/kids/phr_participant_registration.jsp
All participants must present a copy of their birth certificate and bring it to check-in with a completed registration and waiver form before the start of competition.  
Competitors will be divided into four age groups: 7-8, 9-10, 11-12 and 13-14. Boys and girls are encouraged to participate, competing separately in baseball and softball, respectively. 
"This marks the 7th year that our team of volunteers has hosted the Pitch Hit and Run in Valley Center and nearly every year we have kids make it all the way through to compete and win the Padres' level of competition and even make it to the Top 3 in country at the national level," said Rob Baranowski, president, Valley Center Baseball Club. "We see this as a great opportunity for kids in our community to showcase their skills in this free, fun event while representing Valley Center in this first step of the big competition!"
Participants will have the chance to advance through four levels of competition, including Team Championships at Major League ballparks and the national finals at the 2016 MLB All-Star Game Week in San Diego, California at Petco Park, July 10-12.  In 2014, local Valley Center competitor Alicia Zappia qualified all the way through and competed at the MLB All-Star Game in Minneapolis, MN, earning 2nd place in the country. This year's All-Star game is in San Diego with the Padres.
Participants in each age group and category with the highest score in the following categories will receive awards and will advance to the sectional competition: all-around champion, pitching champion, hitting champion and running champion. Sectional competitions will be held in the San Diego area at a later date.
The PHR is open to the public and anyone age 7-14 can participate in the event.  For more information, contact Pitch, Hit, and Run Coordinator, Anita Baranowski at 619-987-0709.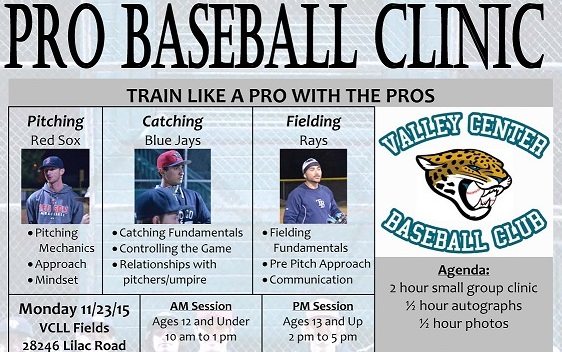 The Valley Center Baseball Club is taking advantage of Monday's day of from school to put together a Pro Clinic, featuring 3 of the Minor League players that work with our teams on a regular basis.
The clinic will provide specialized instruction for either pitching, catching, or fielding, in a small group 3 hour session.
Players 12 and under will work with the pros from 10am until 1pm. Players 13 and over will work with the pros from 2pm until 5pm.
All of this is taking place on Monday, November 23rd, at the Valley Center Baseball Fields, located at 28246 Lilac Rd., Valley Center, CA 92082.
The clinic only costs $20 per player with advanced registration, $25 at the event.
Click here for more info or to register.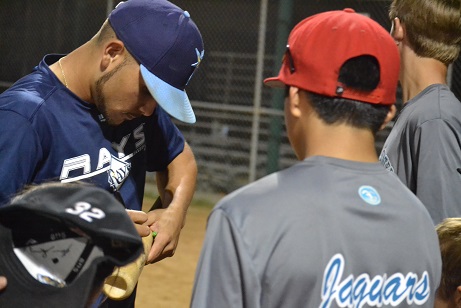 The Valley Center Baseball Club is growing, expanding in both memberships and the number of teams over recent months, thanks to the full-time addition of Oscar Sanay.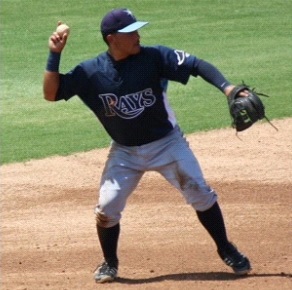 Coach Oscar is working with both the VCBC Jaguar 7th/8th grade team and high school JV team for every practice, currently held on Mondays and Fridays.
Both teams are also in the thick of the fall schedule, with anywhere from 1 to 3 games per week scheduled against local opponents, high school teams and high school feeder teams.
"We are proud to continue bringing professional instruction into the VCBC program to benefit the players of Valley Center," explained Rob Baranowski, VCBC President. "Coach Oscar not only brings physical drills to make the players better, but regularly shares the philosophies, approaches, and routines that it takes to become a professional baseball player."
Oscar Sanay is currently a minor league player in the Tampa Bay Rays organization. The club has previously utilized coaching and instruction from pitching veteran Dave Stewart, now the GM of the Arizona Diamondbacks; Jeremy Rodriguez, San Diego Padres former catcher and current Dominican League Manager; and Ryan Lehr, former Atlanta Braves player and co-founder of The Pure Swing.
The Valley Center Baseball Club also is planning the details for the 2nd Annual Pro Baseball Camp, which brings a host of professional players and instructors for a one-day baseball camp in Valley Center for boys and girls ages 7-18. The camp is currently scheduled for January 10th, 2016. Keep an eye out for details on this web page and on the club's Facebook page.
Anyone interested in learning more about the Valley Center Baseball Club can fill out the information form here or send an email to This email address is being protected from spambots. You need JavaScript enabled to view it.
Subcategories
Page 2 of 6
Warning
: Illegal string offset 'active' in
/home3/lce/public_html/vcbaseball.org/templates/js_studio_free/wright/html/pagination.php
on line
29
Warning
: Illegal string offset 'active' in
/home3/lce/public_html/vcbaseball.org/templates/js_studio_free/wright/html/pagination.php
on line
35
Warning
: Illegal string offset 'active' in
/home3/lce/public_html/vcbaseball.org/templates/js_studio_free/wright/html/pagination.php
on line
29
Warning
: Illegal string offset 'active' in
/home3/lce/public_html/vcbaseball.org/templates/js_studio_free/wright/html/pagination.php
on line
35
Warning
: Illegal string offset 'active' in
/home3/lce/public_html/vcbaseball.org/templates/js_studio_free/wright/html/pagination.php
on line
29
Warning
: Illegal string offset 'active' in
/home3/lce/public_html/vcbaseball.org/templates/js_studio_free/wright/html/pagination.php
on line
35
Warning
: Illegal string offset 'active' in
/home3/lce/public_html/vcbaseball.org/templates/js_studio_free/wright/html/pagination.php
on line
29
Warning
: Illegal string offset 'active' in
/home3/lce/public_html/vcbaseball.org/templates/js_studio_free/wright/html/pagination.php
on line
35
Warning
: Illegal string offset 'active' in
/home3/lce/public_html/vcbaseball.org/templates/js_studio_free/wright/html/pagination.php
on line
29
Warning
: Illegal string offset 'active' in
/home3/lce/public_html/vcbaseball.org/templates/js_studio_free/wright/html/pagination.php
on line
35
Warning
: Illegal string offset 'active' in
/home3/lce/public_html/vcbaseball.org/templates/js_studio_free/wright/html/pagination.php
on line
29
Warning
: Illegal string offset 'active' in
/home3/lce/public_html/vcbaseball.org/templates/js_studio_free/wright/html/pagination.php
on line
35
«
Start
Prev
1
2
3
4
5
6
Next
End
»